---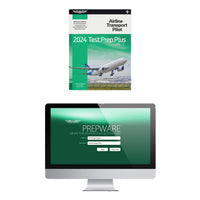 Rely on the time-proven and dependable ASA Airline Transport Pilot Test Prep to prepare for your FAA Knowledge Exam. Test material is expertly organized into chapters based on the subject matter. It includes introductory text and illustrations, questions, answer choices, explanations (for correct and incorrect answers), answers, and references for further study. This topical study promotes better understanding and aids recall, providing a more efficient study guide. When you're done studying, take 5 FREE practice tests with ASA's online simulated testing program at no additional cost!

ASA's Airline Transport Pilot Test Prep is the ideal companion for anyone preparing to take the FAA Knowledge Exams. The Computer Testing Supplement CT-8080-7D provides pilots with all the FAA legends, figures, and full-color charts needed to be successful. Learners can practice with the exact same information they'll find at the testing center. ASA also keeps up with changes, offering updates online and via email. With the Test Prep, pilots can feel confident and well-prepared.
This bundle combines ASA's popular Test Prep book and Prepware Download (code is included in the book) for the ultimate flexibility and savings. Today's hectic lifestyles demand efficient use of what limited study time usually is available. This bundle allows test applicants to choose whichever test preparation method is most convenient at any given time or location.

Use Test Prep 2023: Airline Transport Pilot for the following Knowledge Exams:


ADX: Aircraft Dispatcher
ATS: ATP - Airplane (Single Engine)
ATM: ATP - Airplane (Multi-Engine)
ATH: ATP - Helicopter (Part 135)
ARA: ATP - Airplane - Added Rating (Part 135)
ARH: ATP - Helicopter - Added Rating (Part 135)
ACP: ATP Canadian Conversion
eBundle Specifications:
Edition: 2024

Effective Date: 2023

Page Count: 984

Illustrations: Black and white, full color

Inclusions: Softcover Book, Test Supplement, Software Redemption Code

ISBN Number: 978-1-64425-337-3

Dimensions: 8.25 x 10.75 inches

Copyright: © 1957-2023 Aviation Supplies & Academics, Inc. All rights reserved.

Date Published: 2024

Prop 65 Warning: Cancer and Reproductive Harm www.P65.Warnings.ca.gov
System Requirements

Do not install on mobile devices like an iPad or Android tablet.
Windows and Macintosh compatible. For registration and program and test question updates, a DVD drive, PDF file reader, and Internet access are required. Once the program is installed and updated, the internet is not necessary to run the program.
Windows computers with 8/8.1 and 10 are supported. Installation of the software will require 335 MB of hard drive space.
Macintosh computers with OS X 10.9 or newer are supported. Installation of the software will require 346 MB of hard drive space.