---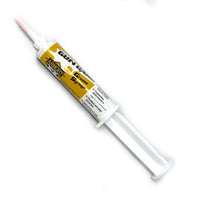 Armory Labs - Gun Care Grease in Syringe
The same great protection you find in the CPL-9 Cleaner but as a grease for lasting protection. 
Proven performance with semi/full automatic firearms as well as black powder firearms operating in both high and low temps (-50 F).
Dramatically reduces friction better than other synthetics, graphite, and PTFE while not containing Teflon, moly, or graphite.
Low viscosity that never gets sticky or tacky – penetrates and repels both dirt and moisture.
Contains great corrosion inhibitors to ensure the best protection for your firearm.
Safe on plastic, rubber, and painted surfaces.