---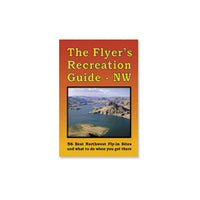 The Flyer's Recreational Guide - NW is a great companion to Flight Guide, containing detailed information and photographs of western America's most exciting sites with convenient access to landing strips. Researched by experienced, fun-loving pilots, this guide will help you plan your own memorable adventure. Special activities and points of interest are listed for each site with tips on biking, boating, camping, fishing, golfing, hiking, horseback riding, rafting, rock climbing, swimming, wine tasting, finding hot springs, and more.

The guide lists phone numbers for local services, such as lodging, restaurants, entertainment, and transportation, so you can get further information or make reservations. Airport information is also provided to help determine whether your aircraft and skills are compatible with the destination. With the many photographs and handy maps, the guide will help you visualize what each site has to offer.

If you plan on traveling in the Northwest (ID, MT,OR, WA), this guide will be the perfect tool to help you plan a vacation worth remembering.