---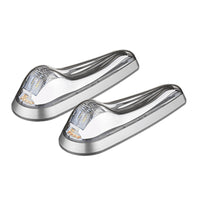 CERTIFIED AeroLEDs - Pulsar Navigation / Strobe / Position Lights
Pulsar Aircraft LED Strobe Lights are a three-in-one light—a navigation light for directional red and green positioning. A strobe light increases visibility in both daylight and night and rear-facing white position light. Designed with an industry-standard mounting footprint, an aerodynamically low drag profile, standard three-position mounting screw pattern with a patented mounting bracket, they are ideal for replacing legacy light installations. Pulsar is designed for some of the most extreme operating conditions; however, no external power supply is required for this nav light. They replace the legacy Xenon Strobe 600 series.

Pulsar aircraft lighting is constructed using a single solid-state circuit board, exclusive polycarbonate lens internal reflectors, Anodized Aluminum heatsink, and an external acrylic hard coat for UV protection and scratch prevention. The quality shows in the performance: exceeding 70 candelas for position lights and 150 effective candelas for strobe lights.
The Pulsar Navigation Lights are one of the industry's smallest footprints and are ideal for new and retrofit designs for the end of a wingtip and for wingtip cutout installations. There is a Pulsar NS LED navigation light for every need. The Pulsar NS series also uses the standard 3 position mounting screw pattern on their mount brackets. No external power supply required. Replaces legacy Xenon Strobe 650 series. Certified Class FAA, TSO C-30c Type I and II.
Product Specifications: 
Part Number:  12V (11-1100-12), 24V (11-1100-24)
Power: 17 Watts (per pair)
Voltage: 12V (9-18 VDC) 24V (18-36 VDC)
Lumens: N/A
Weight: 8 oz
Dimensions:1.82″ x 5.6″ x 1.3″
Class: FAA, TSO C-30c Type I, II, III, and TSO C96a Class II