---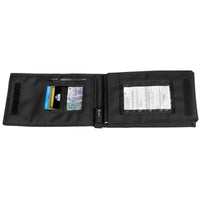 An AEROPhoenix innovation! First the zippered log book cover, now this unique (our own Dave's idea) side-folding design, that opens and closes just like the logbook itself. Inside, it is padded, beefed-up, and functionally accessorized to keep a pilot's valuable documents handsomely protected. There are plentiful pouches, without the excess of most designs:
Fits all master-sized logbooks
Additional full-size storage sleeve
4 license, credit / business card slots, 1 with clear plastic viewing
Larger clear plastic pouch for Medical / Temporary Airmans Certificate(s)
Pen / pencil holder
Special webbing stylishly reinforces fold area
Fits all logbooks with dimensions equal to or smaller than 12"W x 7"H x 1.5"D. Including the following popular logbooks: SP-6, SP-AMT, JS506050
Made in the USA, with some imported components.