---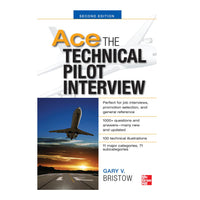 Ace The Technical Pilot Interview | B MCG 123
ADVANCE YOUR CAREER WITH THIS DYNAMIC TOOL FOR ACING THE TECHNICAL PILOT INTERVIEW...
Let an experienced airline pilot help you succeed on the Technical Pilot Interview. This one-of-a-kind study tool asks the right questions so youll know the right answers. Open it and start learning what you need to know in order to get a powerful edge over the competition--at every stage of your piloting career.
This unique study guide helps you:
* Get to know material likely to be asked on your interview
* Practice with almost one thousand exam-style questions--complete with answers
* Build confidence, skills, and knowledge
* Focus your study on what you need to know
Can you answer these questions?
* If you were loading an aircraft to obtain maximum range, would you load it with a forward or aft center of gravity?
* Why does an aircraft climb as high as possible?
* What does an aircraft descend quicker when its lighter?
* What is a fail operational autopilot/landing system?
* What is an assumed/flexible temperature?
OPEN THIS STUDY GUIDE FOR:
* Answers to almost 1000 questions you may be asked during the technical interview
* More than 50 illustrations to clarify key essential points
* Comprehensive coverage ranging from light aircraft to heavy jet operations
* A convenient quick-find, cross-referenced presentation
* Material that has global application

Contents            Back to top

     Abbreviations
    Chapter 1: Aerodynamics
    Chapter 2: Engines
    Chapter 3: Jet & Propeller Aircraft Differences
    Chapter 4: Navigation
    Chapter 5: Atmosphere and Speed
    Chapter 6: Aircraft Instruments and Systems
    Chapter 7: Performance and Flight Planning
    Chapter 8: Meteorology and Weather Recognition
    Chapter 9: Flight Operations and Technique
    Chapter 10: Human Performance
    Chapter 11: Type-Specific Questions
     Index