---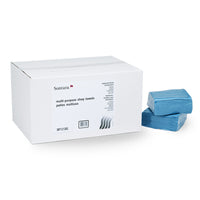 Sontara's smooth shop towel works great on surfaces like glass and is optimized for picking up low viscosity fluids. The closed "weave" of smooth shop towels makes this product virtually lint-free yet very strong, wet, and dry.

Blue, Qtr Fold
Sometimes you need to scrub and remove dried-on grunge aggressively. Other times you need a soft and thirsty wiper for a delicate task. Either way, Sontara® Multi-Purpose Shop Towels offer outstanding strength and absorbency to get the job done quickly without leaving behind any lint.
Sontara's textured shop towel traps and removes thick and gooey liquids (ink, oil, paint, resin, syrup) and is good for scrubbing away built-up contaminants without damaging the underlying surface the way abrasive pads can.  
The smooth shop towel works great on surfaces like glass and is optimized for picking up low viscosity fluids. The closed "weave" of the smooth shop towel makes this product virtually lint-free yet very strong, both wet and dry. Both textured and smooth shop towels are made with proprietary Sontara fabrics that stand up to autoclaves, harsh solvents, boiling water, and just about any cleaning fluid you'll find in the workplace.