---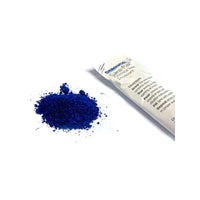 Sani Pak - Lavatory Sanitizer Deodorant, 80 Gram Powder Tube | SP77080A
Sani-Pak powdered lavatory service cart sanitizer-deodorant is used to chemically treat aircraft lavatory water in the service cart aircraft fill tank prior to refilling aircraft lavatory waste waste water.
Sani-Pak toilet deodorant, developed for military use, is recognized worldwide as the benchmark in aircraft lav chemical deodorants, and today is also used in rail, mass transit, marine, recreational vehicles and portable toilets. Sani-Pak's key features include a non-staining deep blue color, pleasant fragrance, and a unique additives package designed to control odors and reduce tar buildup in system lines and holding tanks. All Sani-Pak products have been the industry standard for both inherent malodors and generated malodors (including ammonia generation), as well as maintaining components and mechanical parts free from tar buildup.
Unlike other products in the industry, Sani-Pak products are not based on quaternary ammonium technology (which contributes to organic tar buildup) or on high loadings of fragrance to cover or mask malodors. Instead, they are made up of a unique balance of properties that result in application performance that is both safe and effective for today's commercial airline.
Great for use in airplanes, buses, campers, and self-contained travel vehicles. Can be used in both flush and non-flush toilets. Safe on the rubber gaskets and tubing of automatic biffy systems. Contains no formaldehyde.
Sani-Pak powder is the grandfather of lavatory chemicals. Tear-open tubes offer an easily controllable and measurable way to deliver the power of Sani-Pak chemical. Sani-Pak powder products use two types of water soluble film for optimum solubility.
Packaged in single, 80-gram individual tubes, the recommended dilution rate for this chemical powder lav agent is 1-gram to 1-gallon. A single Sani-Pak tube has the capability of treating 80-gallons of aircraft lavatory fill water.