---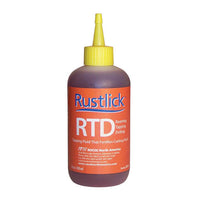 Rustlick™ RTD Fluid - 12oz. | 69016
Reaming, Tapping, and Drilling Fluid
RTD is a viscous fluid with extreme pressure additives for use in reaming, tapping, drilling and other metal cutting operations. RTD is suitable for all metals including high strength steel and titanium. This product significantly reduces friction to give superior cutting performance.
In order to prevent the growth of bacteria and fungus RTD has been specially formulated using "biologically hard" raw materials that the bacteria and fungus cannot break down. RTD provides excellent tool life and produces a superior surface finish. In addition, RTD has been designed to emulsify in water.
RTD can be combined with ordinary mineral cutting oil for the most severe cutting operations, such as broaching and gear cutting on the toughest metals.