---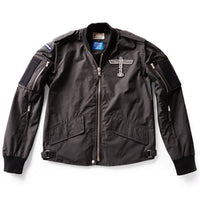 Red Canoe - Boeing Flight Jacket | M-JKT-BTO-01-CH
Featuring Boeing's Vintage Winged logo, this stylish, lightweight summer flying jacket takes design inspiration from classic aviation apparel. The charcoal jacket is made from an 80/20 cotton/nylon blend, is distinguished by map pockets, brushed nickel zippers and rugged canvas shoulders.
65/35 cotton/nylon blend in charcoal
Nylon lining
Shoulder and wrist pockets feature brushed metal zippers
Heavy-canvas shoulder pocket fits a pen perfectly
Due to the Boeing Totem Jacket's slim fit, we recommend ordering one size larger than usual.