---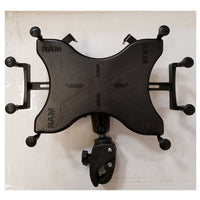 The RAM-B-400-UN9U consists of the Tough-Claw™ rail clamp base, Medium length double socket arm and universal spring loaded X-Grip® IV holder for 10" large tablets.
The spring loaded X-Grip® IV holder expands and contracts, allowing for a perfect custom fit of your 10" tablet. Included are easy access grip knobs for quick insertion and release of your handheld device. The Tough-Claw™ rail clamp base is the perfect mounting base for quick and easy tool-less installation and removal on round, square, odd shaped rails and bars. The Tough-Claw™ can be clamped on rails from 0.625" - 1.5" outer diameter.
Perfectly suited for mounting on the yoke of an aircraft, handlebars and seat posts of bicycles, kayak rails, roll bars and much more. The RAM® Tough-Claw™ will soon become another essential RAM® component in your collection of mounting options. The mount is designed with a RAM 1" diameter patented rubber ball and socket system that has adjustment points at both ends of the double socket arm; this allowing for almost infinite adjustment and perfect viewing angles.