---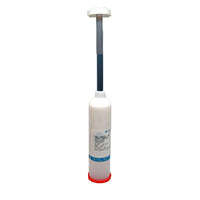 PRC Desoto - PS-870 C24 Corrosion Inhibitive Sealant - 6oz kit
P/S 870 Class C is a corrosion inhibitive sealant. It has a service temperature range from -65┬░F (-54┬░C) to 250┬░F (121┬░C), with intermittent up to 250┬░F (121┬░C), with intermittent excursions up to 275┬░F (135┬░C). This material acts as an effective barrier against the common causes of corrosion on aluminum alloys or between dissimilar metals. The cured sealant maintains elastomeric properties after limited exposure to both jet fuel and aviation gas.
PRC Desoto - PS-870 C24 Corrosion Inhibitive Sealant - 6oz kit
P/S 870 Class C is a two-part, manganese dioxide cure polysulfide compound. The uncured material is designed for roller and faying surface sealing applications. It cures at room temperature to form a resilient sealant having excellent adhesion to common aircraft substrates.
Specifications
BMS 5-95 - Type I C-168 - BOEING
BMS 5-95 - Type I C-20 - BOEING
BMS 5-95 - Type I C-336 - BOEING
BMS 5-95 - Type I C-80 - BOEING
CMS-SL-106 - Class C, Grade 12 - COMAC
CMS-SL-106 - Class C, Grade 24 - COMAC
CMS-SL-106 - Class C, Grade 48 - COMAC
DHMS-S3.06 - Type I Class C-80 - DE HAVILLAND INC.
DMQR 1194 - BOEING LONG BEACH
DMS 2013 - Type 1 Class A - BOEING LONG BEACH
DMS 2013 - Type 2 Class A - BOEING LONG BEACH
DMS 2013 - Type 4 Class A - BOEING LONG BEACH
DMS 2013 - Type 5 Class A - BOEING LONG BEACH
DPM 5896-3 - Class C-12/20 - BOEING LONG BEACH
DPM 5896-4 - Class C-96/336 - BOEING LONG BEACH
DPM 5896-7 - Class C-120/480 - BOEING LONG BEACH
DPM 5896-8 - Class C-120/576 - BOEING LONG BEACH
GMS 4108 - Type IV-12 - GULFSTREAM
GMS 4108 - Type IV-24 - GULFSTREAM
GMS 4108 - Type IV-48 - GULFSTREAM
MIL-PRF-81733 - Type IV-12 Class1 GA - NAVAL AIR WARFARE CENTER
MIL-PRF-81733 - Type IV-24 Class1 GA - NAVAL AIR WARFARE CENTER
MIL-PRF-81733 - Type IV-48 Class1 GA - NAVAL AIR WARFARE CENTER
MIL-PRF-81733 - Type IV-96 Class1 GA - NAVAL AIR WARFARE CENTER
MM1076 - Class C-12(20), Type 1, Grade A - MITSUBISHI HEAVY INDUSTRIES
MM1076 - Class C-24(80), Type 1, Grade. A - MITSUBISHI HEAVY INDUSTRIES
MM1076 - Class C-48(168), Type 1, Grade A - MITSUBISHI HEAVY INDUSTRIES
MM1076 - Class C-96(336), Type 1, Grade A - MITSUBISHI HEAVY INDUSTRIES