---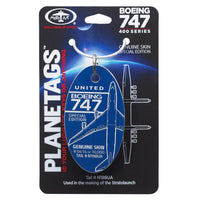 This Boeing 747 N198UA took its first flight May 1997 and flew international routes for United Airlines until it was retired in March 2009. It began the second journey of its career in March 2012 when its cockpit and controls, engines, pylons, landing gear, actuators, electrical, hydraulics and fuel subsystems were incorporated into the Stratolaunch, the world's largest aircraft by wingspan. As part of the Stratolaunch, this plane will live on to carry satellites and rockets into space.
PlaneTags are made from actual retired aircraft fuselage, not merely stamped metal. Each PlaneTag bears the color, thickness, and wear and tear from the portion of the fuselage from which it was cut. Therefore, it is rare to create two identical PlaneTags. These variations and imperfections are not product flaws.
As a result, you will not have an option to select the color of your PlaneTag. The images on this website are provided for reference only and should not be used as the sole basis for choosing a particular PlaneTag.
- Please note: Due to limited quantities combination colors you may receive will vary.
Caution: Not recommended for children under 8 years of age. This product contains chemical-based paint which may cause respiratory irritation if ingested of inhaled in large quantities. Keep out of mouth.