---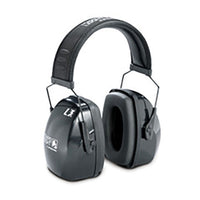 Leightning series' steel-wire construction provides high performance and robust durability. Leightning stands up to daily use and abuse without compromising comfort. Howard Leight has optimized the Leightning series to deliver the highest level of comfort available, featuring an exclusive padded foam headband and super-soft ear cushions that eliminate that "squeezing" pressure on the head. The Leightning series also features Bilsom® Technology's patented Air Flow Control™ technology for optimal attenuation across all frequencies and snap-in ear cushions for easy maintenance.
Howard Leight - Leightning L3 Black Ear Muffs Features:
Howard Leight's patented Air Flow Control delivers optimal attenuation across all frequencies, without increasing earcup size or weight. A patented baseplate chamber and high-tech non-woven layer manage the flow of air inside the earmuff to control how sound reaches the ear. The result is better, more consistent overall attenuation for virtually all industrial noise environments. Air Flow Control is a standard feature on all Leightning series earmuffs.


Robust steel headband withstands demanding use, especially in tough environments
Snap-in ear cushions make replacement quick and easy
Padded foam headband delivers long-wearing comfort with minimal pressure on the head
Three attenuation levels allow for targeted attenuation for a variety of applications
Telescopic height adjustment remains fixed during use
Delivers high degree of comfort; ideal for situations where compact earmuffs and reliable Noise-Blocking protection are required.