---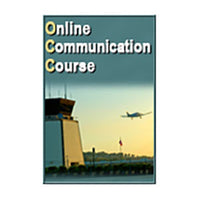 Gleim Online Communication Course | GLM-725 | OCC RS
PN:  GLM-725
ISBN : 978-1-58194-084-8
The Gleim Online Communication Course (OCC) is an interactive ground training course designed to increase pilots' safety, knowledge, and abilities in the area of aviation radio communications. From small, uncontrolled airports to the largest Class B airspace areas, OCC gives you practical knowledge that will enable you to not only participate in radio communications, but also to excel in them. OCC is a course that any new student pilot or returning veteran will benefit from.
Six study units explain proper communication techniques for each phase of flight
5-15 minute audiovisual presentation
10-20 pages of knowledge transfer outlines
10-question multiple-choice quiz
6 months of access
Key facts about OCC
Structured, interactive self-study review and certificate program delivered online via the Internet

You can complete this course at your own pace anytime during the 6-month period you have access to it. The course uses the Gleim proven Knowledge Transfer System methods.

Takes about 6 hours to complete

Each study unit should take about an hour. That includes the Audiovisual Presentation, the Knowledge Transfer Outline, True-False Study Quiz, and Multiple-Choice Test for that study unit.

Challenges you, but provides you with the knowledge to pass

Our Knowledge Transfer Outlines give you all the review material you need, in a well-organized format, so you can focus your study on the areas you need to review the most. You can then confidently pass each study unit quiz with ease.

Inexpensive and user friendly

For those who are less familiar with computers, we have a trained, friendly support staff you can contact for help.