---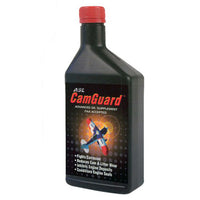 CamGuard - Oil Additive (Aviation), 16oz
CamGuard is an additive supplement formulated to address the complex and interrelated problems of corrosion, wear, deposits and seal degradation in piston engines. CamGuard contains 11 high performance additives and is 100% active. It dramatically improves performance of and is compatible with all aviation oils including mineral based, and semi-synthetic types.

In addition to aircraft engines, CamGuard is extremely beneficial for corrosion control when added to the crankcase of any infrequently used engine. These include marine inboard and outboard engines, motorcycle, emergency equipment, backup generators, classic and antique vehicles, agricultural and all seasonal equipment. CamGuard is compatible with all passenger car and heavy-duty diesel oils. This includes synthetic motor oils.

What are the problems?
Corrosion

Corrosion is the destructive attack of a metal by chemical reaction with its environment. Rusting applies to the corrosion of iron or iron based alloys such as steel. The presence of corrosion on the rubbing surfaces dramatically increase wear rates as the corrosion products are easily removed and often abrasive. In engines, corrosion manifests itself by causing material loss, surface property changes (pitting) and dimensional changes, dramatically increasing wear rates on critical steel components such as camshaft lobes, tappet surfaces and cylinder walls. It was this effect recognized by a major engine component re-conditioner that led to the development of CamGuard. Corrosion also attacks of non-ferrous metals and can damage bearings and bushings, degrade the efficiency of oil coolers and weaken structural components.

Wear

Wear is the gradual removal of material from one or both pieces of two materials that are in contact and moving relative to one another.  Engines have many parts found under such conditions including the interfaces of cam lobes and lifters, cylinders and piston rings and gears. Wear rates are determined by load pressures, relative speed, materials, surface properties and the lubricant. CamGuard anti-scuff and anti-wear chemistry protects engine components from startup to the highest possible temperatures.

Deposits

Deposits are buildup of carbonaceous materials caused by oxidized fuel and lube products sticking to various engine components.  Deposits are the result of reactive precursors that attach to hot metal surfaces where they polymerize forming varnish and carbonaceous buildup. Deposits that limit or prevent the normal movement of components will increase wear rates dramatically. The oil additives must prevent oxidation of and disperse the reactive precursors for the life of the oil. Deposits once formed, for example on pistons, can causing rings to stick rapidly increases wear and may require the need for a premature top overhaul. CamGuard increases both the anti-oxidancy and dispersancy of the oil helping minimize deposit buildup as well as mitigate existing deposit problems.

Seals

Seals are synthetic rubber like materials that allow mechanical motion to occur outside the engine while keeping the oil inside the engine.  They seal the crankshaft while allowing it to turn both inside and outside the engine and their use allows access to many parts of the engine including valve covers and push rods. Over time and exposure to hot oil, seals may shrink and harden or they may soften and crumble. Neither is a pleasant prospect. The ability to protect from both scenarios can help minimize messy engine compartments and the need to replace seals before TBO.
CamGuard Advanced Engine Oil Supplement - Pint Bottle Specifications:
UOM : Bottle
Size : Pint
Shipping Weight : 1 lbs
Manufacturer P/N : CAMGUARD