---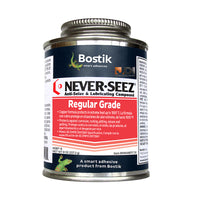 Bostik - Never Seez Regular Grade Anti-Seize 8 oz. Brush Top Can | NSBT-8
Bostik Never-Seez, Regular Grade is a premium anti-seize compound and extreme pressure lubricant. It is ideal for use on items such as nuts, bolts, screws, pipe fittings, gaskets, machinery, shafts, and chain drives. Temperature resistance of -297 to 1800 degrees Fahrenheitallows this anti-seize compound to protect metal parts in even the hottest, most corrosive, or in the highest pressure environments.
Conforming Specifications:
Ford ESE-M12A4-A
Garrett Engines: PCS5724
Pratt & Whitney: PWA360523-2
Millitary Spec: MIL-A-907.