---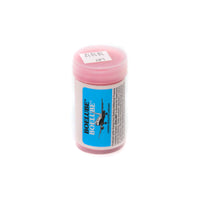 ---
BOELUBE 70201 Solid is non-toxic, non-irritating, environmentally safer synthetic lubricant for minimum quantity lubrication application.
Superior Lubricity
100% Active
Non-Hazardous

Indefinite Shelf Life

Proprieties : 
Solid
Color: Pink
Melt Range : 90-110°F (32-43°C)
Insoluble
VOC Content: Non-volatile (<0.1%)
Certifications:
Boeing: 5008 - 5054 - 5063 - 5492 - 5540 - 5578 - 5657 - 5657 -5768 
Bombardier : BAMS 569-001 Rev B
Dassault Falcon: Quality process for drilling of Aluminum
ISO 9001:2015
Materials: 
Alloy, Copper, Titanium, Aluminum, Glass Fiber, Wood, CFRP, Kevlar, Composite, Stainless Steel
BOELUBE Solids come in various shapes and sizes to accommodate ease of application in drilling, tapping, reaming, abrasive belts, deburring, grinding wheels, band, circular and hand saw blades.
Typically the BOELUBE solid is applied to the tool before start-up. In a block or tube form, it can be hand-held, and a drill bit can be touched to the solid before drilling, or the solid may be swiped across the surface to be drilled. Only a minimal amount is required when drilling through thin material.
BOELUBE Solids are extremely cost-effective in single-point work such as drilling and reaming. Improve tool life by reducing heat build-up by applying BOELUBE push-up tubes or individual blocks to the tool before start-up.