---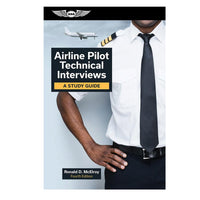 All kinds of technical questions can be asked in an airline interview, yet there is a specific approach pilot applicants should take to prepare for this part of the hiring process successfully. In this expanded fourth edition of the book, author Ron McElroy gives readers an abundance of preparatory exercises in mental math, approach plates, regulations and procedures, weather, systems and aerodynamics, and cockpit situations to analyze and resolve. You will also be acquainted with 14 CFR Part 111 Pilot Records Database so that you know about the information sharing between employers.

Using McElroy's tips and methods, aspiring professional pilots will be prepared to display their flying skills during the simulator ride and their aeronautical knowledge during the face-to-face oral questioning. This study and practice will not only ensure better performance during a technical interview or test but will help pilots fly the line a little better.

Specifications:
Edition: Fourth
Page Count: 144
ISBN Number: 978-1-64425-073-0
Date Published: 2022
Copyright: © 2015-2022 Aviation Supplies & Academics, Inc. All rights reserved.
Dimensions: 6 x 9 inches

Author Details:

Ron McElroy is a graduate of the USAF Academy with a Bachelor of Science degree in Engineering Mechanics and a Master's Degree in Aeronautical Science from Embry-Riddle Aeronautical University. Ron attended USAF Undergraduate Pilot Training at Williams AFB, Arizona, and has flown for over 39 years in over 160 types of aircraft. He is also a graduate of the USAF Test Pilot School at Edwards AFB, where he was the Operations Officer and Chief Test Pilot for the USAF C-17A Combined Test Force initial cadre. He is an FAA flight test pilot for the Chicago Aircraft Certification Office.

Ron has accumulated a broad spectrum of experience in the military, airline, corporate, and general aviation operations: he has been an instructor pilot, Special Air Missions pilot for Congress, DOD, and the White House, FAA Designee check airman, NASA project pilot, and test pilot consultant. He has published two books, three pilot study guides, and written articles for major publications. Ron has been involved with many flight test projects as a project pilot, consultant, and flight test captain for a major airline. He is also a member of the FAA WakeNetUSA panel for wake turbulence.

Ron holds an Airline Transport Pilot (ATP) certificate with 15 type ratings, Commercial Seaplane, and Private Glider privileges, and is a Certified Flight Instructor and Advanced Instrument Ground Instructor. He has logged over 10,800 hours with over 4,800 hours of simulator time as a trainee and instructor pilot. Ron has provided over 10,000 hours of instruction in various settings throughout his career in the classroom, simulators, and aircraft for the USAF, general aviation, and airline students and trainees using USAF training curricula, FAA Practical Test Standards, and FAA-approved airline training courses.