---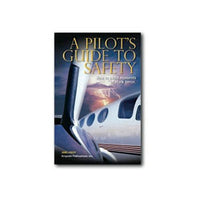 Airguide Publications - A Pilot's Guide To Safety  | B AGP 120
ISBN : 9780934754132
How to avoid moments of stark terror .
Author John Lowery gives you a "cause and effect" look at a wide variety of mishaps. There's an old axiom that says, "Flying consists of hours of boredom, interrupted by moments of stark terror." But, says the author, if this describes your flying experience, you're doing something wrong. Hopefully by reviewing the mistakes of others you'll avoid your own "moments of stark terror." The accidents described cover the spectrum from Cubs to the supersonic Air France Concorde. Outlined by the sequence of flight takeoff, cruise, descent and landing--you'll see how the "operator error" finding in more than 80-percent of the accidents, often overlooks other major links in the accident's chain of errors.   In some cases, the pilot, a victim rather than the cause.

160 pages, 8-1/2 x 5-1/2.