---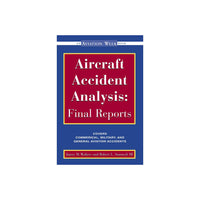 Fascinating and factual accounts of the world's most recent and compelling crashes

Industry insiders James Walters and Robert Sumwalt, trained aviation accident investigators and commercial airline pilots, offer expert analyses of notable and recent aircraft accidents in this eye-opening, lesson-filled case file. Culled from final reports issued by military and foreign government investigations, as well as additional research and resources, Aircraft Accident Analysis tells the final and full tales of doomed flights that stopped the world cold in their wake.

Technical accuracy and details, presented in layman's language, help to clarify:
 Major accidents from commercial, military, and general aviation flights
 Pilot backgrounds and flight histories
 Chronology of events leading to each accident
 Description of aviation investigation process
 Insight into NTSB, military, and foreign government findings
 Resulting recommendations, requirements, and policy changes
 Preview summaries of accidents too recent for final reports are also highlighted.
Readable, authoritative, and complete, Aircraft Accident Analysis: Final Reports is at once an important reference tool and a riveting, what-went-wrong look at air safety for everyone who flies.

Featured final and preview reports include:
U.S. Air Force, U.S Commerce Secretary Ron Brown, Dubrovnik, Croatia
Jessica Dubroff, Cheyenne, Wyoming
Valujet Airlines 592, Everglades, Florida
American Airlines 955, Cali, Columbia
John Denver, Pacific Grove, California
Atlantic Southeast Airlines, Carrollton, Georgia
US Air 427, Pittsburgh, Pennsylvania
TWA 800, Long Island, New York
Delta Air Lines, LaGuardia Airport, New York
John F. Kennedy, Jr., Martha's Vineyard, Massachusetts
Contents:            Back to top
        Abbreviations.
        Preface.
        Introduction.
        Part one: Major air carrier accidents.
        The longest investigation in U.S. history: US Air flight 427.
        Pressure falling rapidly: american 1572 narrowly averts disaster.
        El Duluvio claims American.
        A tale of tow tragedies: Bergenair 301 and Aeroperu.
        Carnage in the Everglades: The flight of Valujet 592.
        A Pilots nightmare: The inflight fire of FedEx 1406.
        Contact approach: A close call for Delta 554.
        A final evaluation flight for Arborne Express.
        Waiting for rescue: an agonizing night for KAL 801.
        Part two: Rregional airline accidents.
        Along for the ride: The final descent of ASA 529.
        Quandary at Quincy: The runway collision of United Express 5925 and Beechcraft King Air N1227D.
        Dangerous misconceptions: The legacy of Comair 3272.
        Part three: Military accidents.
        A missed approach: The fatal flight of Commerce Secretary Ron Brown.
        A lack of teamwork: HAVOC 58 impacts Sleeping Indian Mountain.
        Have Blue: An airshow to remember.
        Part four: General Aviation accidents.
        Shattered dreams: a record-setting flight gone awry.
        Falling star: John Denvers final flight.
        The investigation continues.
        Index.

Author Biography:            Back to top

    James Walters is a Captain with a major U.S. airline and is Chairman of the Accident Investigation Board for the Airline Pilots Association, International. He is completing studies toward a masters degree in aeronautical science/safety from Embry Riddle Aeronautical University and is a graduate of the Transportation Safety Institute. He frequently participates in National Transportation Safety Board accident investigations and disaster preparedness training exercises conducted by airports worldwide.

    Robert Sumwalt is a Captain for a major international airline. Having received training as an aircraft accident investigator from the NTSB, he participates in air carrier accident investigations and also in aviation safety research. A consultant to the NASA Aviation Safety Reporting System, he is the author of numerous aviation articles, training texts, and manuals on aircraft operations, human factors, aircraft accident investigation, and airline policies and procedures.